Repackage and Refurbishment Service for Amazon FBA returns
TESTCOO/July 29, 2022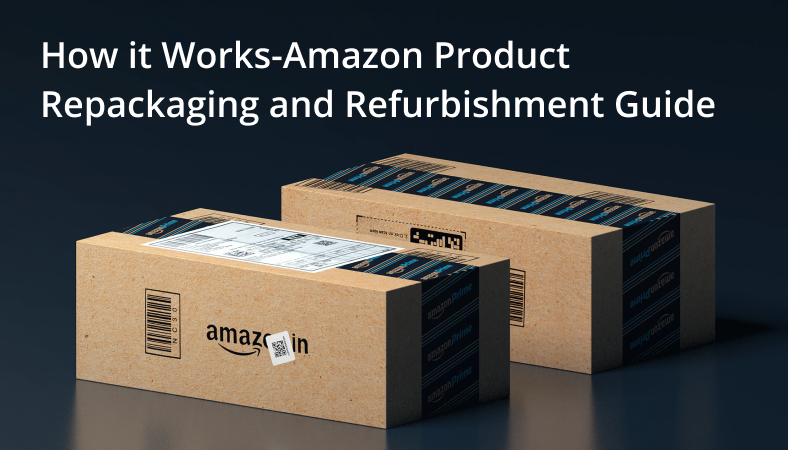 Part1: What qualifies to be repackaged and refurbished for FBA?
1. FBA Refused Product - Shipped to FBA from supplier and refused due to packaging issues, incorrect labels, or prep issues (talk to a care representative for case by case approval)
2. FBA Overstock - Removal Orders avoiding long-term storage fees and/or require labeling
3. FBA Returns-Returned items from customer and need to schedule removal orders
Part2: How to Handle Amazon FBA Returns and Minimize Loss
Why do returns happen? Returns can take place due to package damage. By the same token, returns can occur due to product damage. Similarly, Amazon can return items due to unsecured packaging. Or, Amazon can return items if they are no properly labeled.
When Amazon receives the return from your customer, the warehouse worker will look at the customer's return reason (more on those reasons below) and then make a split second decision on whether the item is still in sellable condition or not.
The main "dispositions" (Amazon term) in which a customer will return an item and how to best respond to each:
1. Sellable returns
Items that are returned as "sellable" will be automatically returned to your active inventory. Unless you're worried that the item is actually not in sellable condition, there is nothing more you need to do once the item is indeed returned to Amazon.
Otherwise,If you are worried that the item isn't really in sellable condition, then Create a Removal Order for Amazon FBA Inventory inspect the item.
2. Damaged returns
There are multiple reasons why an item would be returned as damaged. It's possible that the item was damaged in a FBA warehouse prior to the shipping process to the customer. If the item was damaged in transit, then it's the fault of Amazon (if the FBA worker did not pack the item well) or it's deemed as your fault for not bubble wrapping or protecting the item before shipping the item to Amazon. It could also be your fault if you sent an already damaged item to Amazon.
Generally speaking, sellers risk a lot shipping directly to Amazon. Importantly, their products need a pre-shipment inspection before arriving to FBA center. Products & Packaging is subject to damage in transit. After all, your products travelled all the way from China and Southeast Asia. Amazon does not tolerate damaged goods. Amazon will suspend your listing. Then the products need full return order placed. Again, this can be due to…
Packaging damage
Product damage
Mislabeled packaging
In the long run, no one wants to repackage themselves. As a result, they contact a third-party inspection service to help.
3. Customer damaged returns
Items that are returned as "customer damaged" will not be returned to your sellable inventory. "Customer damaged" does not mean that the customer bought the item, broke it, and then is attempting to return it. "Customer damaged" means that the customer opened the item, and it is no longer in new condition. Sometimes the customer says they opened the item, but they never really did and it's still in new condition. The best plan of action for these items is to Create a Removal Order for Amazon FBA Inventory.
4. Carrier damaged returns
If the item was damaged in transit, then it's the fault of the shipping company (like UPS, FedEx, USPS, etc) for not taking good care of the package during the shipping process. These returns are ones you should be reimbursed for as it was not your fault the item was damaged. Don't open up a removal order as Amazon will not reimburse you for these if you request for the item to be returned.
5. Defective returns
The item was returned to Amazon as "defective" and is either obviously damaged/defective or the customer stated that it is faulty. When this happens, the FBA customer is refunded, but (when returned) the item stays in your inventory as "unsellable." The best plan of action here is to create a removal order and have the item returned for inspection. Some buyers return an item to Amazon and say it's defective in order to get free return shipping, but the item is not actually defective.
​​​​​​​
Part3: How it Works-Amazon Product Repackaging and Refurbishment Guide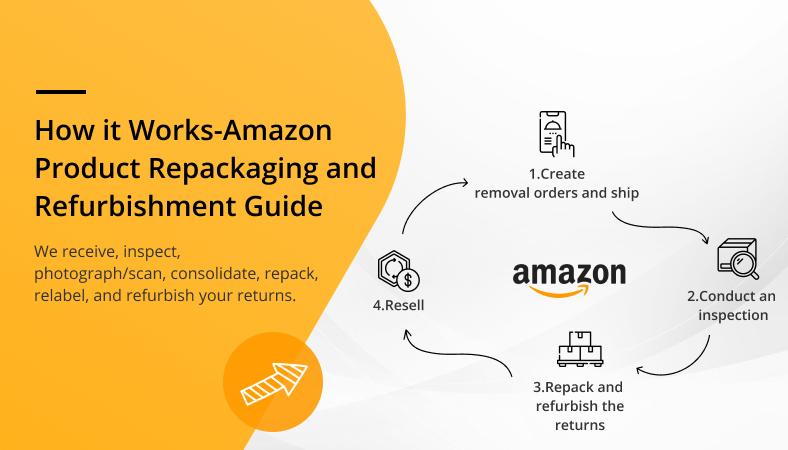 1. Create removal orders and ship
Create removal orders for Amazon FBA inventory as needed and ship the returns from Amazon FBA to our warehouse.
2. Conduct an inspection
It is important to understand and comply with Amazon's guidelines and policies on product safety and compliance. With an inspection team on the ground, we conduct inspections for defects and damage at shipping receipt. Our products inspection specialist will verify: 
Quantity
Labeling and marking
Packing (product spec, po, artwork, accessories)
Visual appearance (product appearance, workmanship)
Product specifications (weight, appearance, size, colors)
All possible functions and possible tests (safety, printing, criteria, etc.)
Returns special check points


3. Repack and refurbish the returns
Repackage and refurbishment returns after production inspection so that they can be sold as new.
Repackaging is a messy business that can include replacing the poly bag or bubble wrapping, or re-boxing the item. It can also include repackaging of branded and unbranded boxes, and poly bags.
Depending on the item and inspection report, we can re-tape, re-glue, and re-staple boxes; remove excessive tape, non-product labels, and stickers; and re-box branded and unbranded corrugated boxes.
4. Resell
Once the repackaging and refurbishment are completed, the return items are resold, either through Amazon FBA or another marketplace of your choice.
​​​
Part4: Product Repackaging and Refurbishment Categories
Home Improvement
Kitchen
Pet Products
Sports
Home
Office
Automotive
Camera
Wireless
Lawn & Garden
Business, Industrial, and Scientific Supplies
Musical Instruments
Shoes
Apparel
Fashion
​​​​​​​
Part5: Do you need an Amazon FBA Removal Order Repackaging Solution?
The service helps merchants, just like you, re-purpose inventory and get it back into the sales channel for distribution and sales.
Your trusted partner for Amazon FBA Repackaging & refurbishment! We are your complete e-commerce logistics solution provider for all things FBA!
We can process return orders. We specialize in product repackaging. Contact us for product repackaging and refurbishment services.