Soft Toys Quality Control Inspection Service -TESTCOO
TESTCOO/October 22, 2021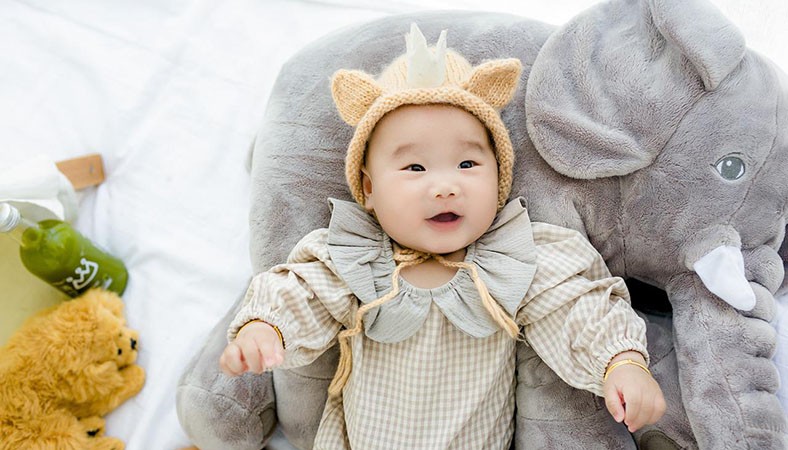 Recently a few recall cases are related to stuffed toys. Stuffed toys exported to American or European markets are suggested to be clear of potential separation of small parts, like animal eyes, which can cause a chocking hazard. To ensure the quality and safety of soft toys, it is important to conduct quality control inspection for the toys before they are sent into the hands of children.
Preparations before inspection
Check against reference sample or picture provided by client, the instruction manual and gift box and any information from client for the inspection, such as the arrival time of inspector and the address of the factory. If any discrepancy was found, please write down on special attention in the report.
Physical inspection /appearance inspection
Check the shape, size and color of the toys based on the sample or description on instruction manual.
No parts missing
No wrong accessory
No burrs, no rough surface
No crack, chip or broken
No sharp point and edge (Use your hand to touch all accessible surface to determine any sharp point/edge)
No rust or corrosion
Free from moisture, mould, mild dew or fungus developed
No wobble base
No color deviation, no different shade of color within the same piece or within the same shipment
Welding on joints strongly and firmly
No gap at joints
No dirt, stain, contamination
No holes in the fabric materials
No loose or uncut thread ends – all are properly trimmed off
All seams are properly locked
All assembly and hem seams are without fault, straight without missing, skipped without loose stitching
No unpleasant smell, no smell of adhesive glue, gasoline or other smells like the smell of naphthalene or mothball
Markings and printings are clear and legible
Function inspection
The function inspection is based on the mechanical test in ASTM F963-1. It is to simulate foreseeable use wear and tear on the item through actions like throwing, pulling and dropping. The testing procedures include drop, torque, tension, and compression tests; seam strength tests; material quality checks and strength tests on cords and elastic parts. The function of the toy should work as described on instruction manual.
Metal detection test
Equipment: Metal detector(Flat bed metal detector, Gate type metal detector, Gate type metal detector with conveyor, Hand held metal detector for seldom use).
Product applied: Stuffed toys, doll,cloth and any product which is easily to embed of metal parts.
Procedure:
Follow the corresponding client requirement to determine the diameter of ferrous ball(needle detector calibration kit)to be used, if no specified requirement, the general guideline are:
* For general client, use needle detector calibration kitwithф1.2mm ferrous ball.
* For Japanese client, use needle detector calibration kit with ф1.0mm ferrous ball.
1. Put the needle detector calibration kit on the center of needle detector surface, check the alarm system whether activated or not.
2. Then put the inspected samples through the needle detector.
3. If the alarm system is activated, destroyed the stuffing to check if any broken needle of metal matter is inside the stuffing toy.
It should be critically defective when the alarm system is activated.
Metal detection test for soft toys: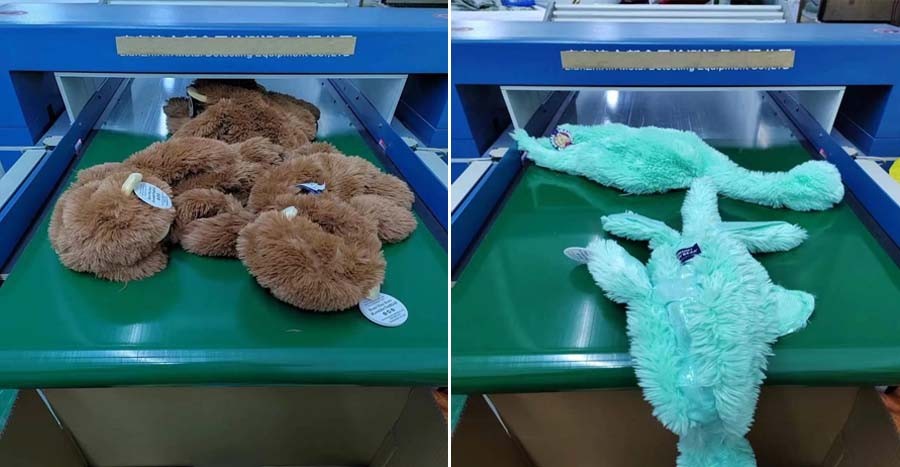 Visual cleanliness inspection on stuffing materials
Equipment: a cutter or scissor.
Product applied: Stuffing toys or bean bag
Procedure:
1.Place the testing product on a white/clean paper/tissue
(This paper must be big enough and clean)
2.Select a seam for cutting, then cut the product and then open the seam.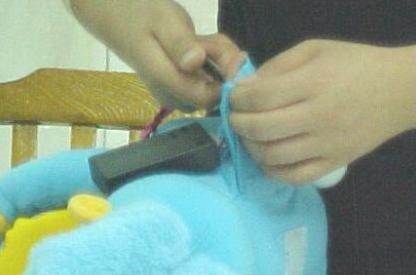 3.Pull out the inside material onto the paper/tissue.
4.Check the material to verify whether it is clean and is new material only.
5.Stuffing materials should not include any insect, metal waist, dirty stain/foreign material or blood, and the materials are not with any bad smell and wet hand feel.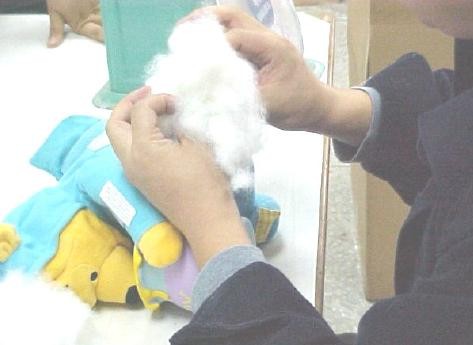 If deviations were found, please state on the report as special attention and take a legible photo.
Easily start your toys test online:
TESTCOO implements more than 100,000 inspections and factory audit services every year, including inspection services for stuffed toys. TESTCOO is a third-party inspection service company based on Internet technology with a self-developed inspection order system, which allows customers to efficiently place orders by themselves anywhere around the world. Upload your requirement for toys now:
Contact us