The Guide for Canton Fair 2023 You Must Know
TESTCOO/March 10, 2023
TESTCOO Invitation
The Canton Fair 2023
We are ecstatic to announce that Testcoo is participating in the Canton Fair 2023! We cordially invite you and your esteemed representatives to join us at the Exhibition in Guangdong Pazhou Complex from October 15th to November 4th, 2023.
Testcoo is a distinguished professional inspection company based in China that specializes in Product Inspection, Factory Assessment, and Lab Testing, and we are immensely grateful for the trust and support all our customers have shown us.
At Booth T76 on Pedestrian Bridge, we will be offering a wide range of supply chain solutions that we are sure will meet your needs and expectations. We look forward to seeing you there!
About the Canton Fair
Canton Fair, also known as China Import and Export Fair is world famous trade fair held in the spring and autumn seasons every year since the spring of 1957 in Guangzhou.
Due to China's economic development, the Canton Fair, has become "China's NO.1 Exhibition", not only attracts enterprises from all over China, but hey it also attracts for the 200,000 buyers from over 200 countries and regions around the world.
During the past few years more than 10,000 enterprises from over 100countries displayed their products at the international pavilion. As is reported more than half of the world's top 250 retailers prefer to purchase here. With the annual turnover of up to 60 billion dollars taking place during the fair. Canton Fair has become the world's leading B2B trading platform.
The 133rd Canton Fair Schedule in Spring 2023
There are multiple phases to the Canton Fair, each of which focuses on certain markets and product groups. There will be three phases of the upcoming fair in April–May 2023. The first phase will include electronics and lighting items and is set for April 15–19, 2023. The second phase, which would feature consumer products and ceramics, will run from April 23–27, 2023, and is likely the one that most people would be interested in visiting. Textiles and medical items will be the main topics of the third and final phase, which is slated for May 1–5, 2023. 
​​​​​​​Check out the details of the 133rd Canton Fair 2023 schedule:
Phase I

Phase II

Phase III

Apr. 15-19, 2023

Apr. 23-27, 2023

May 1 - 5, 2023

9:30 AM - 6:00 PM

Auto Parts Automotive

Art Ceramics

Fashion Accessories

Building and Decorative Materials

Household Items

Foodstuff & Tea

Bicycles

Houseware

Footwear & Headgear

Cabinets

Festival Products

Furs, Leathers & Downs Products

Car Parts

Furniture

Garments

Chemical Products

Beads

Carpets & Tapestries

Computer and Communication

Bedding

Cases & Bags

Trade Show Displays

Crafts

Clothing

Vehicle Spare Parts

Candle

Medicines & Health Products

Construction Machinery

Ceramics

Native Produce

Consumer Electronics

Horticultural Products & Kitchenware

Medical Devices

Flooring

Clock & Optical Instruments

Sporting Goods & Casual Goods

Hardware

Home Decorations

Apparel

Electronic and Electrical Products

Novelties

Bottles

Lighting Equipment

Weaving & Rattan Products

Office Supplies

Motorcycles

Party Supplies

Household Textiles

Household Electrical Appliances

Personal Care Products

Towels

Tires

Sofa

Underwear

Tools

Stationery

Jewelry

Products

Stone & Iron Products

Kids Wear

Large Machinery & Equipment

Toiletries

Sports & Travel Products

Sanitary and Bathroom Equipment

Paper

Swimwear

Small Machinery

Gifts

T-Shirt

Tile

Glass Artware

Handbags

Vehicles (Outdoor)

Toys

Linens






Textile Raw Materials & Fabrics
The Canton Fair, starting from the 134th session, will make  adjustments to some exhibition sections: Canton Fair: Exhibition Sections and Schedul
​​​​​​​


​​​​​​​
Step-by-Step Guide to Visiting Canton Fair
1) When to Attend the Canton Fair
The Canton Fair has been going on for more than 50 years, and it takes place twice a year in April and October.
Regarding the timing of the sessions, there is a slight variation. Christmas shopping is best done during the Spring session, which normally occurs in April.
Both April and October have generally pleasant, agreeable weather that isn't oppressively hot. Visitors should be ready to take many showers each day because the environment is often humid to stay clean and comfortable.
The fair is usually divided into several phases, with each phase focusing on different industries and product categories. Visitors can choose to attend one or more phases depending on their interests and schedule.
2)Travel Instructions to the Canton Fair
Before entering the country, visitors who are not Chinese nationals must first have a current visa. Apply as soon as possible to minimize any delays because this process can take several weeks.
Guangzhou Baiyun International Airport is the closest airport to the Canton Fair complex once you've arrived in China. Direct flights to Guangzhou are available from several major locations worldwide. Visitors can use a cab, bus, or train to get to the Canton Fair complex from the airport.
In terms of lodging, Guangzhou offers a wide variety of hotels and other lodging options, from inexpensive choices to luxurious ones. Visitors should call ahead to confirm availability and take advantage of any specials that might be offered.
Finally, getting around the city can be relatively easy because of the number of taxis, buses, and trains that are available to carry guests to and from the Canton Fair site.
Moreover, a lot of hotels provide shuttle services to the fair, so make sure to ask your hotel whether this choice is offered. Attending the Canton Fair may be enjoyable and rewarding with a little bit of planning and preparation.
3) How to Get a Visa for China
China is once more accepting all previously issued visas as long as they are still valid as of 2023. To obtain a VISA, you must either use a visa service or visit the closest Chinese Embassy to your place of residency.
You can require a tourist visa or a business visa, depending on the reason for your trip and how long you'll be staying. You can apply for a Chinese visa at the Chinese embassy or consulate in your nation or region.
Verify the embassy or consulate's application guidelines and turnaround dates before submitting your application. You will have to wait for approval after submitting your application, and processing times can change.
Remember to bring your passport and visa with you when you travel to China to visit the Canton Fair after your visa has been granted.
4) Online Registration on the Canton Fair 2023 Website
To register for the Canton Fair, you can visit their website and follow three straightforward steps.
The first step involves providing your details such as your full name, country/region, passport number, email address, and login password. After filling in the required information, enter the captcha code and agree to the terms and policies, and then click the "register now" button.
Once you have submitted your information, the Canton Fair organizers will verify it.
Afterward, you will be notified that you have successfully registered for the event.
5) You should Pre-Register for the Event
Pre-registering for the Canton Fair is advised because it has several advantages. You can save time and avoid long registration lines by preregistering.
Also, you will get a buyer's badge in advance, which will allow you hassle-free entrance to the fairgrounds.
Furthermore, pre-registering enables you to get information on the event schedule and any organizational changes to the fair. Therefore, pre-registration is a practical and effective approach. This guarantees that you can take full advantage of the Canton Fair without experiencing any unforeseen delays or difficulties.
You can also use your buyer's badge for future shows. 
6) Preparing for the Show
Just like any trade event, you should spend hours researching the suppliers and vendors beforehand.
However, the Canton Fair website isn't fantastic, and you'll have to rely on the Canton Fair's poor search capabilities, which are likewise not great. We suggest making a list of 20–30 potential suppliers in advance, along with their booth numbers.
Decide what categories of things you are interested in before you go to the expo. Avoid going to the show just to aimlessly browse merchandise.
Do thorough pre-sale research on your products, including Amazon's rival research. Make a list of inquiries you want to make to suppliers regarding the goods you want.
7) What to bring to in Canton Fair
It's crucial to bring a few key items before going to the Canton Fair. Business cards are essential because they let you share contact information with prospective clients or partners. 
You should wear comfortable shoes because the fairgrounds are rather large, which will make navigating the region easier. Also, communicating with suppliers or clients who speak a different language can be difficult.
To communicate successfully, it's a good idea to pack a translator app or a pocket dictionary. Overall, packing these things will guarantee that your time at the Canton Fair is successful and productive.
8)Canton Fair Address & How to Get There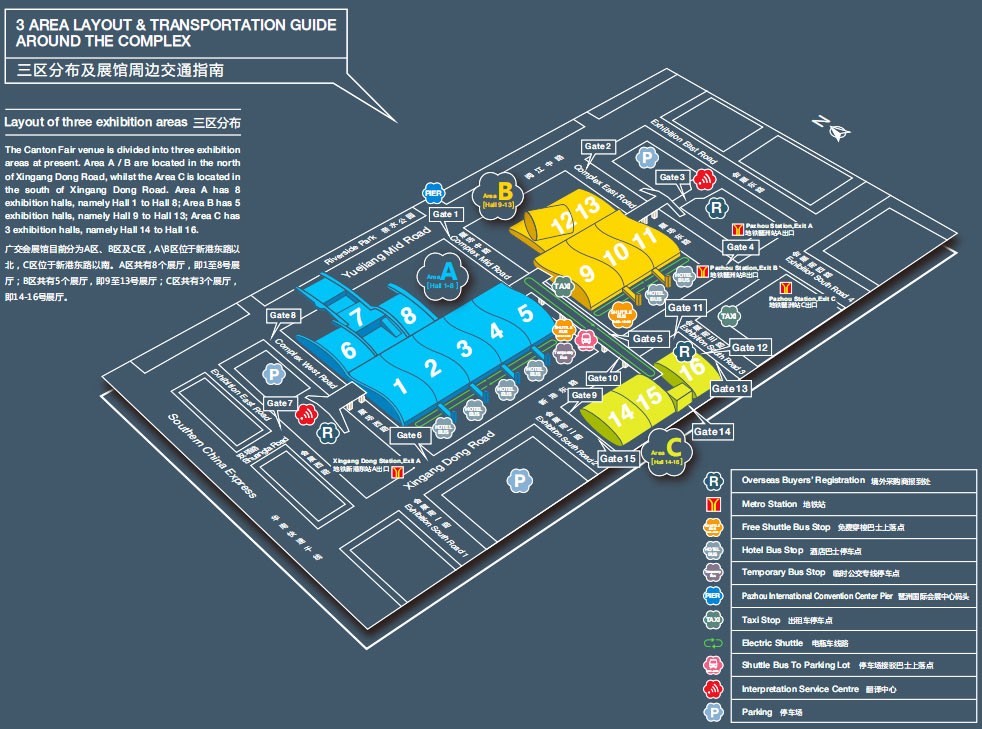 Canton Fair Address: No. 380, Yuejiang Zhong Road, Guangzhou (广州市海珠区阅江中路380号)
Get from Guangzhou Baiyun International Airport to Canton Fair
The distance between Guangzhou Baiyun International Airport and Canton Fair Complex is 45 km / 28 mi. People can reach the complex by metro, taxi, shuttle bus or use our private car service.
By metro: Metro line 3 (North Extension) & line 8 can take you to Canton Fair Complex. First take metro Line 3 (North Extension) and transfer at Tiyu Xilu, hop on Line 3 and transfer at Kecun, and then take line 8 and you may come out at Exit A of Xingangdong Station for quick access to the Area A of the Fair Venue; come out at Exit A or B of Pazhou Station for quick access to the Area B of the Fair Venue and come out Exit C of Pazhou Station for quick access to the Area C of the Fair Venue. It needs 1 hour for the whole journey.
By taxi: Travelers can take a taxi directly heading to the event spot. It takes about CNY 150~160 for 1 hour.
By shuttle bus: It is time costing by taking shuttle bus, which needs around 2~2.5 hours. Shuttle line 10 can send you to New Zhujiang Hotel and here you should change to bus no.229 and make a stop at Pazhou.
Get from Hong Kong to Canton Fair
There are several ways to travel from Hong Kong to Guangzhou and you can choose by flight, high speed train, through train, distance coaches, ferries, etc. It means when you get from Hong Kong to attend the Canton Fair, you should arrive in Guangzhou first and then transfer to the Canton Fair Complex. There are 7 most-used ways from Hong Kong to Guangzhou, and you can check it on our page How to Travel from Hong Kong to Guangzhou 2023.
Down the Guild for The Canton Fair
How Canton Fair Can Play an Important Role in Your Trading Business
1) Best worldwide buyers are attracted to the fair
The greatest purchasers from around the world attend the fair. The fair offers businesses a fantastic chance to network with new clients and broaden their market reach because these purchasers hail from a variety of industries and nations.
The expo is a highly sought-after event for businesses wishing to display their goods and services due to its reputation for drawing high-quality buyers.
The fair offers a great opportunity for businesses to network, forge contacts, and look into new business opportunities due to the huge variety of products on show and the big number of guests.
2) The fair provides various facilities required by business owners
A variety of facilities and services are available at the fair to meet the demands of business owners.
They include exposition halls outfitted with cutting-edge comforts and technology as well as qualified translation services to assist people to communicate in different languages.
The fair also offers aid with logistics and shipping, business matching services, and access to industry intelligence studies.
3) The fair has strict quality control measures in place
The fair has strict quality control procedures to preserve its standing as a dependable and trustworthy commercial platform.
All exhibitors will go through a rigorous screening procedure as part of this to guarantee that only companies with a track record of developing high-quality products are admitted.
Also, the fair has a group of inspectors who keep an eye on the exhibit halls to make sure that all the products are of the proper caliber.
4) The event offers a chance to connect with business leaders.
Businesses have a great opportunity to network with prominent people in the industry by attending the event.
High-profile business owners and executives who are trying to find new goods or develop business collaborations frequently attend the event.
Top 9 Benefits of Attending Canton Fair
1) It is the largest trade fair in the world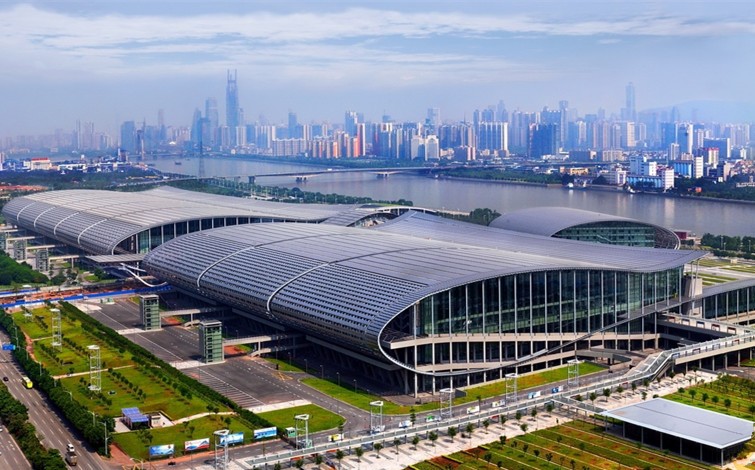 In Guangzhou, China, the Canton Fair complex is where the event takes place. The complex spans an area of 1,100,000 square meters and includes an indoor show space of 338,000 square meters and a 436,000 square meter outdoor exhibition area.
This entire building site is larger than 218 football fields. The trade expo attracts over 200,000 people and more than 25,000 exhibitors each session.
With a wide variety of exhibitors, the sizable space is still insufficient for all of them. As a result, the event is split into three distinct parts, each of which features a different kind of product.
2) Canton Fair is an international foreigner-friendly trade show
The Canton exhibition is quite open to international visitors and export-oriented. The hosts make sure to make things simple for the international guests because there are a large number of foreign purchasers visiting the fair. Foreign guests are led through the event complex by English-speaking personnel and signposts.
The majority of booths at the event include English-speaking personnel to remove communication obstacles between providers and customers. Also, you may hire an interpreter during the event to assist overseas visitors in communicating successfully with regional exhibitors.
3) Participation in the Canton Fair is simple.
The process of taking part in the Canton Fair is simple. By submitting their personal or company information, such as name, address, and contact information, interested parties or businesses can register online to attend the event.
Participants can choose the product categories they are interested in after registering, and then schedule their visit appropriately.
4) You can Build positive relationships with suppliers through the Canton Fair
Numerous companies that procure products from overseas often assume that digital communication is sufficient for fostering a relationship with their Chinese suppliers and manufacturers.
Cultivating a personal relationship is crucial in negotiating costs, ensuring prompt delivery, and maintaining product quality. Strong relationships facilitate productive communication, which can result in favorable outcomes for both parties.
Participating in events like the Canton Fair can be an excellent way for businesses to initiate or strengthen their connections with Chinese suppliers and manufacturers
5) It promotes international trade and provides 1000s of products under one roof
By its platform for connecting and exchanging goods and services, the Canton Fair significantly contributes to the promotion of global commerce.
The show provides a varied range of items across several industries, including electronics, textiles, manufacturing, and home goods. It has more than 25,000 exhibitors from more than 200 nations and regions.
Due to this, it is the perfect location for foreign buyers to find products and form business relationships with suppliers and manufacturers.
6) It presents Chinese products to a worldwide audience
Chinese suppliers and manufacturers have a great opportunity to promote their goods to a worldwide audience at the Canton Fair.
The exhibition is an unrivaled chance for Chinese companies to showcase their wares to potential customers from all over the world, with hundreds of exhibitors presenting a varied range of items.
Chinese products may become more well-known and get a larger worldwide market share as a result of this exposure.
7) It creates a commercial opportunity for enterprises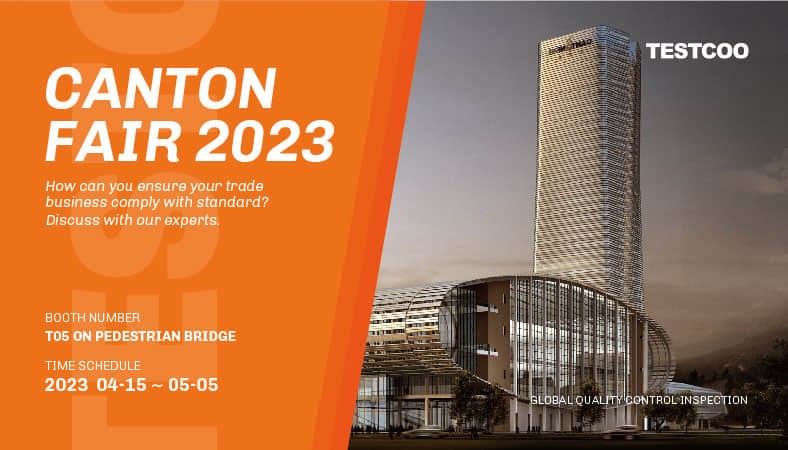 By giving businesses a platform to network with potential clients and partners from across the globe, the Canton Fair opens up considerable business prospects.
The event is a priceless chance for businesses wanting to expand their market reach and boost sales to present their goods and services to a world audience.
8) Showcasing China's manufacturing capabilities
The Canton Fair is a significant display of China's industrial ability and highlights the nation's status as a top worldwide manufacturer.
The fair displays a wide range of Chinese products, from traditional items to high-tech items, with hundreds of exhibitors from many industries.
9) Canton Fair provides a diverse environment for foreigners
For visitors from other countries to learn about Chinese culture, food, and hospitality, the Canton Fair offers a variety of environments.
The expo, one of the biggest in the world, draws attendees from all over the globe, offering a singular chance for cross-cultural learning and interaction.
The fair's wide array of support services, including its cultural exchange initiatives and translation services, promotes intercultural dialogue and understanding.
FAQs about Canton Fair
1) Will foreigners be allowed to attend the Canton Fair in 2023?
Canton will indeed be operational in 2023. After a lengthy COVID vacation, the Canton Fair will return in April 2023, and foreign guests are gladly invited.
2) How big is the Canton Fair 2023?
With a size of 12,174,000 square feet (1,131,000 square meters), it may be the largest conference center in the entire globe. It also has the largest exposition hall, measuring 1,700,000 square feet (157,935.21 m2).
3) What are the different Canton Fair phases?
There will be three phases of this year's canton fair the phases will last from 15 April to 5 May 2023.
4) Who can attend the Canton Fair?
Both local and foreign buyers may attend the Canton Fair. Attendees must, however, register in advance and meet specific eligibility requirements, such as holding a current import/export license or company license.
5) Is Chinese a requirement to enter the Canton Fair?
Attending the Canton Fair does not require Mandarin language proficiency, though it is useful. There are translation services available for those who don't understand Mandarin, and many exhibitors and organizers speak English.