Safety Standards and Compliance for E-bikes, Skateboards and E-scooters
TESTCOO/June 21, 2023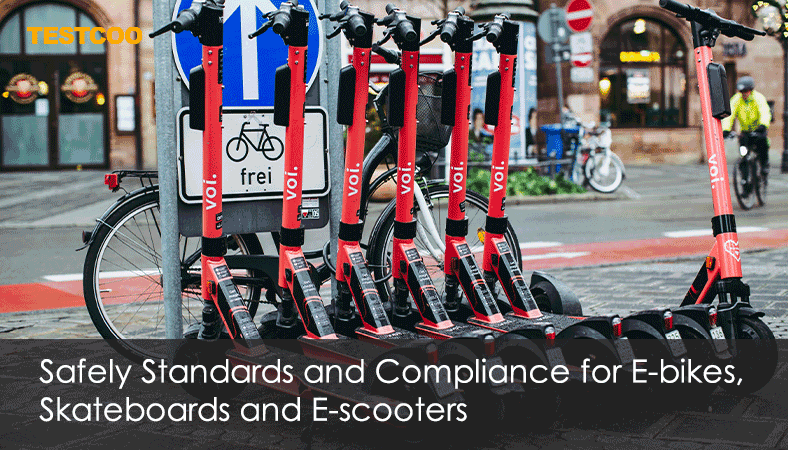 Electric scooters, electric bikes, and electric skateboard have grown in popularity among Americans in recent years, as a way to get to and from work or school, or for fun.
"According to Businesswire, the U.S. electric mobility market size is expected to reach USD 119.8 billion by 2028, expanding at a CAGR of 19.8%
If you are planning to buy electric bikes, electric scooters, and skateboards from China and Southeast Asia, you should be aware the safety standard and compliance.
CPSC report finds that emergency room (ER)-treated injuries and deaths with these products are also increasing. In light of the spike in injuries, CPSC reminds consumers to use caution and safety with these devices.

Why Electric Skateboards, Scooters, and Bikes are the Future of Transportation
Electric Skateboards have found their way to market quickly alongside advances in battery tech. These high-tech devices provide a stand-up riding experience that still allows riders to engage their bodies if desired fully. These innovative devices come in a wide variety of materials, featuring a wider variety of options, but are much more affordable than electric bikes. For that reason alone, it's conceivable that more commuters will look towards electric skateboards compared to bikes.
Safety Standards and Compliance for E-bikes, E-scooters, and Electric Skateboard in the United States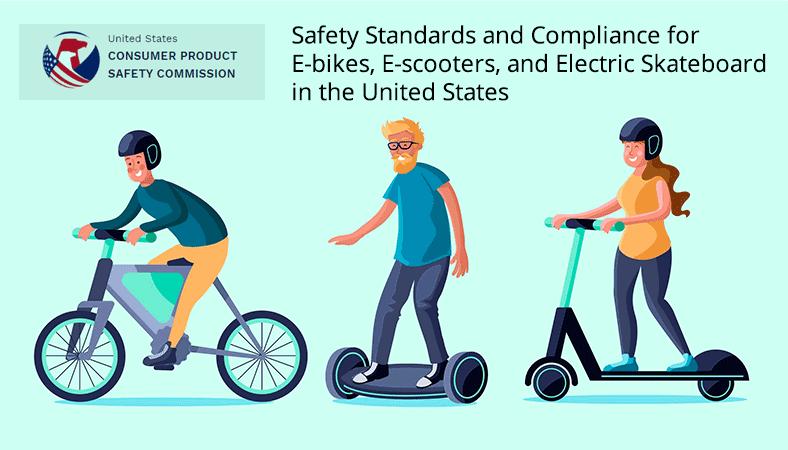 Souce: freepik
U.S. Consumer Product Safety Commission (CPSC) Micromobility Safety Guidance
On December 20, 2022, the U.S. Consumer Product Safety Commission's (CPSC) has called on manufacturers, retailers, importers, and distributors of e-scooters, e-bicycle, and e-unicycles to comply with established UL safety standards. This includes products covered by ANSI/CAN/UL 2272 – Standard for Electrical Systems for Personal E-Mobility Devices dated February 26, 2019, and ANSI/CAN/UL 2849 – Standard for Safety for Electrical Systems for eBikes dated June 17, 2022.
In a move to strengthen fire safety of e-bikes, e-scooters, and the lithium-ion batteries that power such devices, on March 2, 2023, the New York City Council passed Initiative 663-A, mandating e-bikes, e-scooters, e-mobility devices, and light electric vehicle (EV) battery packs to be third-party certified. On March 20, 2023, New York City Mayor Eric Adams signed this into law. With this new law, any company selling, leasing or distributing micromobility devices, such as e-bikes or e-scooters, has until September 16, 2023, to obtain certification from an accredited testing laboratory to:
-UL 2849, the Standard for Electrical Systems for e-Bikes, for the electrical system of any powered bicycle sold, distributed, leased, or rented in New York City.
-UL 2272, the Standard for Electrical Systems for Personal E-Mobility Devices, for all powered mobility devices, including e-scooters, sold, distributed, leased, or rented in New York City.
-UL 2271, the Standard for Batteries for Use in Light Electric Vehicle Applications, of any storage battery for a powered bicycle or mobility device sold, distributed, leased or rented in New York City.


16 CFR Part 1512 – Requirements for bicycles
The CPSC mandates importers and manufacturers of bicycles to refer to 16 CFR Part 1512 – Requirements for Bicycles to ensure that their products are safe for consumer use.
Product scope
16 CFR Part 1512 defines bicycles (which includes e-bikes) as the following:
a. A vehicle with two wheels, with the back wheel being driven solely by human power
b. A motorized (up to 750 watts), pedaled, and single horse-powered vehicle with two or three wheels that, when ridden by a person weighing a maximum of 170 pounds on flat and paved surfaces, does not exceed a maximum speed of 20 mph
Safety requirements
Importers and manufacturers are required to ensure that their e-bikes comply with safety requirements outlined in 16 CFR Part 1512, such as the following:
Mechanical requirements
Requirements for pedals
Requirements for tires
Requirements for front fork
Requirements for reflectors


Testing procedures
Bicycles and their components have to undergo various tests to ensure they can be used safely, such as the following:
Protective cap and end-mounted devices test
Handbrake loading and performance test
Footbrake force and performance test
Handlebar stem test
Fork and frame test
Reflector mount and alignment test


General Certificate of Conformity (GCC)
The General Certificate of Conformity (GCC) is used to certify that your imported e-bike products comply with applicable consumer product safety standards such as CPSC standards. Importers or manufacturers must issue the GCC with a list of applicable standards (e.g.16 CFR Part 1512) and support documents such as certificates and test reports.
Here is a GCC content overview for e-bikes:
a. Name and description of the e-bike
b. List of applicable standards
c. Identification of the importer or manufacturer
d. Contact information: Mailing address, e-mail address, phone number
e. Date (month, year) and place (city, country) of production
f. Date (month, year) and place (city, country) of product testing
g. Third-party testing company, contact person, e-mail, phone number, and address
Safety Standards and Compliance for E-bikes, E-scooters, and Electric Skateboard in Europe
The European standards EN 17128 and EN 15194 define main requirements for the e-bike,e-scooter, and skateboard's sold in the EU. Ensure that these devices meet essential safety criteria related to electrical systems, mechanical design, and braking performance.
-EN 17128:2020 Light motorized vehicles for the transportation of persons and goods and related facilities and not subject to type-approval for on-road use - Personal light electric vehicles (PLEV)
EN 17128:2020 covers general safety requirements and protective measurements, electrical components, driving power management, speed limitation, electromagnetic compatibility, charging of batteries, energy storage within the vehicle, structural integrity, edges and protrusions, moving parts, adequate stability, presence awareness, system failure and malfunction warning devices, hot surfaces, and product information and marking.
-EN 15194:2017 Cycles - Electrically power assisted cycles - EPAC Bicycles
This European Standard applies to EPAC bicycles for private and commercial use with exception of EPAC intended for hire from unattended station.
The Machinery Directive (2006/42/EC) and the General Product Safety Directive (2001/95/EC) are fundamental in ensuring that micro-mobility devices meet safety and quality standards. These directives cover aspects such as risk assessment, labeling, and product traceability, ensuring that manufacturers adhere to strict safety guidelines.
In addition importers and brands should also comply with requirements on MD, RoHS directive (2011/65/EU) and EMC directive (2014/30/EU).
Conclusion: Safety Standards and Compliance for E-bikes, E-scooters, and Electric Skateboard
With the number of daily commuters reaching significant percentages of populations, people are looking for ways to ditch carbon-based travel. And enhanced functionality and increased adoption of ride-sharing services are driving significant demand for personal e-mobility devices. The electric scooter, electric bicycle, and skateboard markets are booming with potential.

As personal e-mobility devices continues to reshape urban transportation, prioritizing safety standards and compliance is paramount.
Manufacturers, regulators, and users must serious about their alternative means of travel to ensure that personal e-mobility devices meet rigorous safety requirements.